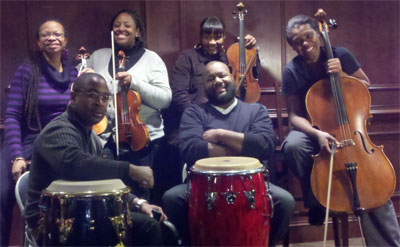 A key component of Perkins Percussions is our percussion and strings ensemble, Synchronicity. This ensemble consists of acoustic string instruments, such as violins, cellos, flute, upright bass, conga drums, cow bells, djembes, etc. Synchronicity performs popular songs from all genres of music, in an entirely different format: this is to demonstrate that the same message can be conveyed in different ways, thus bridging the gap between cultures. This approach pushes the envelope, when it comes to the phrase, "Music is the universal language." We bring a different but refreshing and totally acoustic perspective to music.
We perform locally (Bus Boys and Poets / P Club of Fairfax VA / Wolf Trap) as well as nationally and abroad. Synchronicity is also available for private engagements as well.
For bookings and engagements please call 202-251-9687.